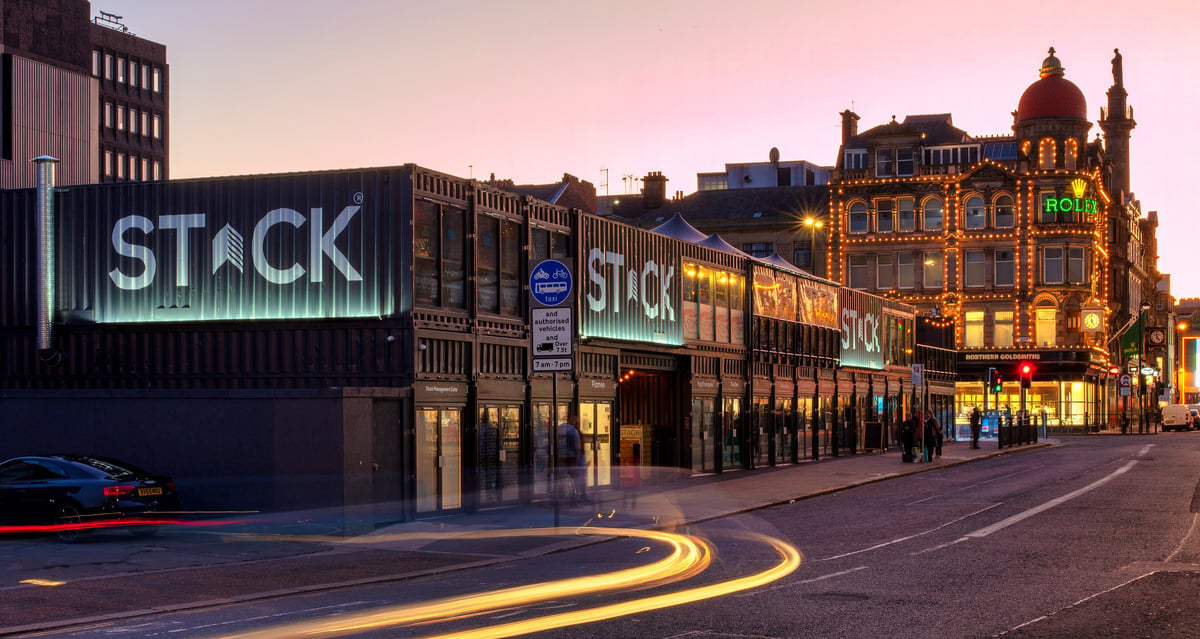 STACK Newcastle: new location, layout and opening date confirmed by much-loved company
Many Geordies were upset that STACK Newcastle closed earlier this year, but now the business is returning to Tyneside.
STACK Newcastle, as details confirmed, plans to make a permanent return to Newcastle next winter at a new site on Pilgrim Street after its sad closure last year.
Geordies also shared their grief over the closure of the food court, but now those STACK fans will rejoice as the business will return to a Grade II listed building Worswick Chambers on Pilgrim Street in 2023. The building has been clad in scaffolding and netting for over 20 years and will now breathe new life into it.
The new flagship venue will be spread over three floors and will include eight bars, seven street food units and two cocktail bars, which will also be used as function rooms with a rooftop terrace. It will also include a central outdoor plaza, a large screen and a stage for live shows.
When completed, the new STACK Newcastle will create 160 jobs and bring back to the city the much-loved leisure village that has been missed since the closure of the Pilgrim Street site to make way for the new HMRC office complex.
Neill Winch, CEO of Danieli Group, owner of STACK, said: "We know how much people miss not having a STACK in Newcastle, so we are focusing our efforts on creating what will become a flagship site where STACK started. Work is well underway on the perimeter with a view to opening in winter 2023."
The announcement of STACK Newcastle's return comes as the band announced they will not be hosting a pop-up event in the city this summer. Danieli Group has applied to Newcastle City Council for permission to create a temporary container village on a site in the Stephenson Quarter, behind Central Station and next to the Crowne Plaza Hotel.
However, following local objections to the pop-up, the company decided to withdraw its application and now focus fully on creating the new development.
STACK Newcastle will be back in town next year
When STACK Newcastle announced its closure earlier this year, the Facebook post housing the bad news received 2,000 tantalizing comments from customers in less than an hour. People wrote that 'Newcastle will never be the same', 'gutted' and 'why am I crying'.
STACK Newcastle's accompanying caption at the time read: 'We know the closure of STACK will also mean the closure of your favorite independent street food/retail businesses. However, we strongly believe that they have all created deals that will continue to thrive as they move from STACK to the next part of their journey. We hope that you will continue to support them in their other sites or in new places in the future. We have 6 weeks ahead of us to make the most of the time we have left in Pilgrim Street.
"We will be hosting a month-long wrap-up party throughout April, culminating with an all-powerful Holiday Weekend at STACK from Saturday May 30th to Monday May 2nd. We hope you all join us over the next 6 weeks in celebrating everything we've become famous for – great street food, great entertainment and great atmosphere.
STACK closes on Monday (Image: Getty Images)
"The good times wouldn't have been possible without you – THANK YOU for making STACK yours. So wipe your eyes, grab your friends and head to STACK for our final farewell dates.