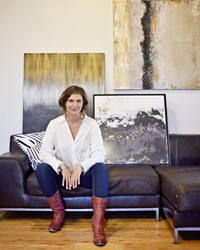 Santa Fe Paint Shops Opens Downtown Location for One-of-a-Kind Art Classes Allowing Tourists to Authentically Connect with the Artist Community of Santa Fe, New Mexico
"I aim to demystify art by making painting accessible to everyone, regardless of age or skill level. I invite students to realize that anyone can make art and to teach them the fundamentals of good design in a fun and relaxing environment."

SANTA FE, New Mexico (PRWEB)
June 07, 2022
Santa Fe Paint Shops offer small, personalized art classes and personalized multi-day retreats for creative locals, as well as tourists visiting Santa Fe, to explore their artistic side. Cermanski is a respected artist and opens her downtown studio and gallery to people who want to take classes in the art mecca of Santa Fe.
Tourists come to Santa Fe to explore artistic expression. The Santa Fe Paint Studios allow artists to "find their own creative voice and connect within," said Cermanski, who shows his abstract paintings in the gallery space. "The classes give tourists the opportunity to interact and I look forward to teaching. The workshop space is also perfect for children and families to participate in creating art while experiencing life up close. by a Santa Fe artist.
The artist continued, "I aim to demystify art by making painting accessible to everyone, regardless of age or skill level. I invite students to realize that anyone can make art and teach them the fundamentals of good design in a fun and relaxing environment. It is my personal goal to share the gift of painting with others because art helps calm the mind, relax the nervous system, and feel connected.
Randy Randall, Executive Director of TOURISM Santa Fe, says of Cermanski's new location, "I'm happy to hear that we will have more painting classes offered in Santa Fe. Having all aspects of the art is the one of the main reasons why our city was recently recognized by Travel and Leisure as the 7th best destination in the world for art lovers.
Santa Fe Paint Shops invites tourists and locals to visit its website at santafepaintingworkshops.com and book a painting class or retreat.
Share the article on social networks or by e-mail: