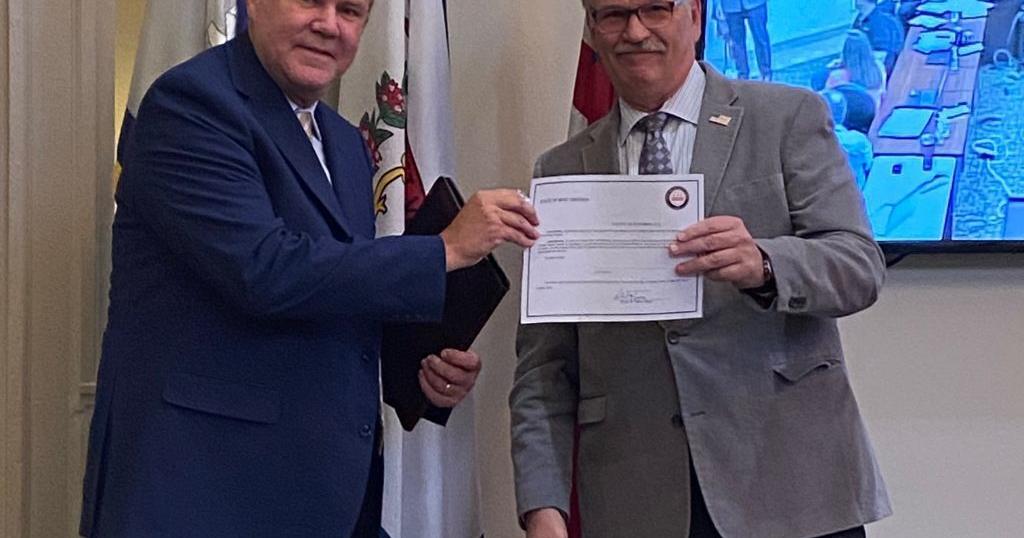 Mayor of Charles Town swears in new City Manager | Journal-news
CHARLES TOWN — Mayor Bob Trainor and members of Charles Town City Council welcomed new City Manager John Barkley to his first official meeting Monday evening.
Following a swearing-in ceremony, Barkley observed and took notes as the council conducted its business.
"Thank you for your vote of confidence," Barkley told the board. "I will serve with dignity and professionalism and I am delighted to have landed here."
Barkley is a graduate of the University of Maryland, where he earned a bachelor's degree in English, and the University of Baltimore, where he earned an MPA in public administration. He left Arizona to take on the role of city manager of Charles Town. He previously served as city manager for Round Hill, Va., in neighboring Loudoun County.
During the evening meeting, each of the board members reported on the events and activities they had been involved in since the previous meeting. Members also shared comments about upcoming events.
Jean Petti announced that the Ranson City Garden is having a contest to name their butterfly garden and also mentioned additional work being done at the garden.
Two board members, Michael George and Kevin Tester, both referenced the Old Opera House which recently concluded "Oliver" and will begin "Rumors." Additionally, Tester pointed out that the Opera House is celebrating its 50th anniversary and held a launch event last week at Locust Hill Golf Course. Another celebratory fundraising event will be scheduled for December, he added.
The council received the resignation of Jacquelyn Milliron from the Charles Town Utility Board during the evening's meeting. Milliron served on the board for several years and told the board that she was resigning as she would soon no longer need service from the public utility board, which would disqualify her from service.
Charles Town Police Chief Chris Kutcher provided statistical reports on the activity of the police department and told council members that he continued to have four vacancies in the department.
"It's a challenge to find candidates," Kutcher said, while sharing that all departments seek officers and draw from the same pool, with increased salaries and benefits in neighboring regions, making it difficult to attract officers. "I'm doing everything I can to keep the officers I have."
"Our pension system is a challenge," added Trainor, also saying that wage competition is also a contributing factor to the hiring process.