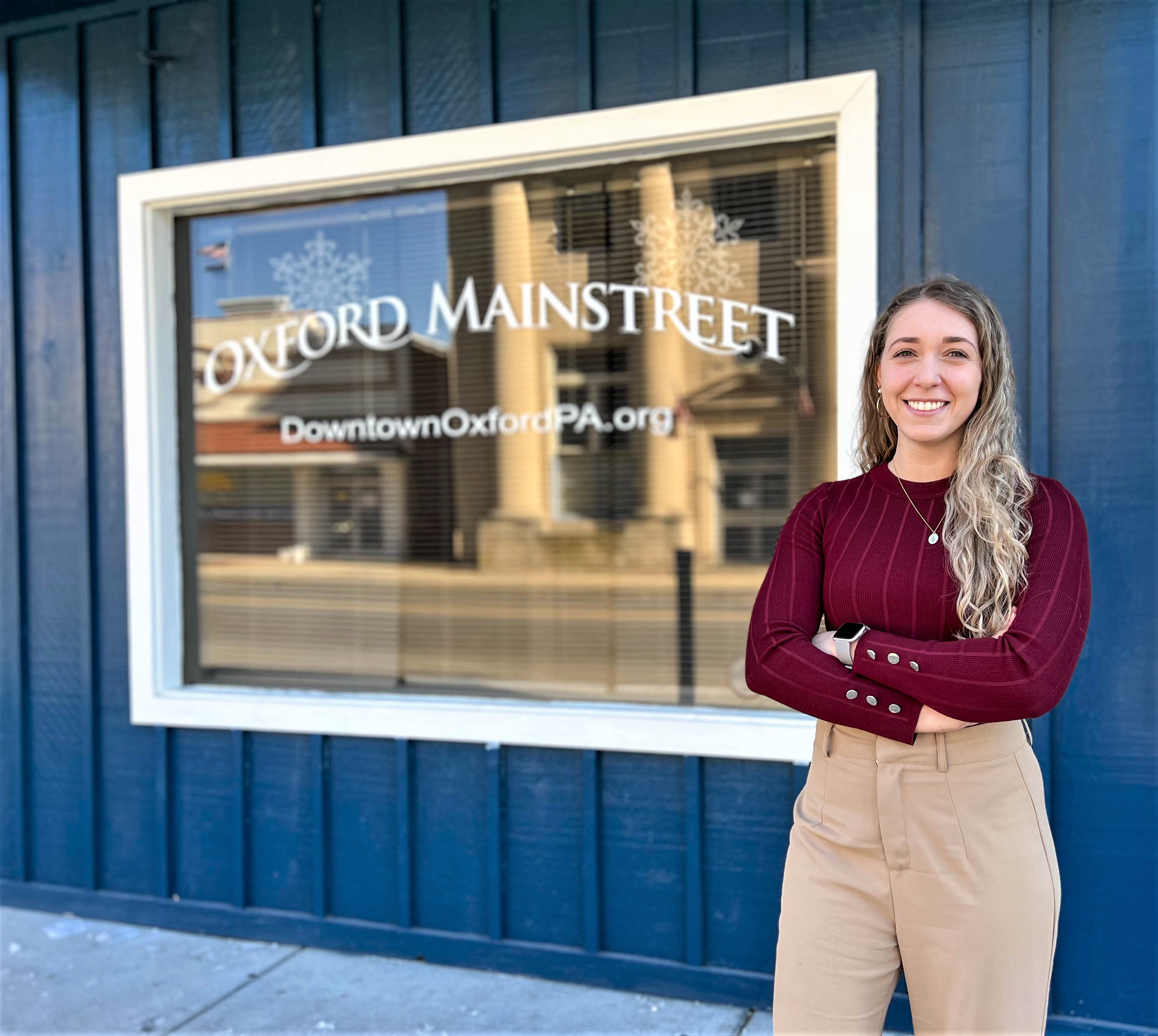 Mayer named new director of OMI
Jenna Mayer, the new director of Oxford Mainstreet, Inc. (IMO), arrived on January 10, just in time for the return of First Fridays to the borough.
At the last borough council meeting, they approved a number of event requests, including the very popular First Fridays and the annual car show. And Mayer is ready to coordinate these events.
Mayer is originally from New Jersey. She graduated from York College in 2018 and then Northern Colorado in 2020 with a Masters in Sport and Exercise Science.
She went to work at Princeton University in athletics department facilities and event operations.
"Then COVID hit," she said, "and I was thrown into marketing. I actually decided I wanted to come to this area, after spending time in York, Pennsylvania My boyfriend lives in Lancaster, Pa. I saw the ad on Indeed.
She was immediately taken with the city of Oxford when she came for her interview.
"I told Brian Dix that stepping into Oxford was like stepping into a Hallmark movie. This town is scenic and walkable. I'm within walking distance of all these amazing businesses. I'm so excited to do part of First Fridays," she said.
She can't wait to organize an event and line up food trucks and vendors. There will also be performers, but she said, "Mom is the word on this for now."
However, she said the theme for the first Friday in April was "Fools Friday."
Mayer pointed out, "For a small town, there are a lot of opportunities here. All companies are so welcoming and supportive of each other.
She was also delighted with the diversity of the city, admitting she had no idea where Oxford was until she started work.
"The diversity here is amazing," she said. "I really didn't know there was a large Amish population here. Just traveling here was an adventure. I am also excited to work with the community and businesses and hope that we come out of the pandemic. Businesses are operational and thriving. »
She loves working in marketing and working with Dix, the general manager.
"I know the pandemic has taken a toll on everyone and I'm happy to be part of the future. Being outside again and enjoying the first Fridays will lift everyone's spirits. I hope everyone can be proud of this role," she said. "Come and enjoy First Fridays with me. We're going to have a great time.