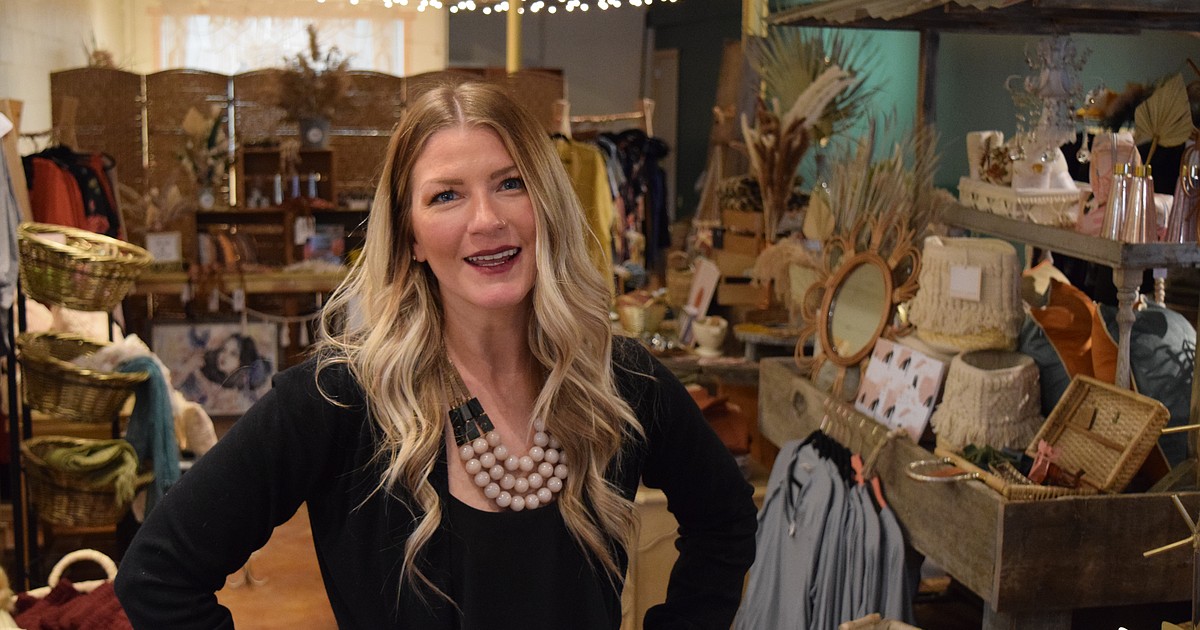 Love & Lumber expands to new location
MOSES LAKE – Walking through Love & Lumber in downtown Moses Lake is a bit like stepping back in time to 1975.
It's all in earth tones, subdued shades of brown, burnt umber, ripe wheat and olive gold, with macrame hanging on the wall and a nondescript but heady, intoxicating scent – a blend of tea in leaves, candles, soap and simple hominess – floats in the air amidst the clothes and toiletries on sale.
There's even a bark, leaf and flower ball gown, made by Rebecca Sterner of Rue and Sage. It seems oddly appropriate, even perfect, for the space.
"I love being downtown. I love having a storefront," said Jenna Hildebrand, owner of Love & Lumber. "Here, people can drive by and see. It's so nice, people walk by and say, 'Oh, I didn't know you were there.' »
The store wasn't always in this storefront at 121 W. Third Avenue between Edward Jones and the Emperor Azteca restaurant. Hildebrand launched Love & Lumber in late 2020, amid the COVID-19 pandemic, in a space deep inside the Smith Martin Building at the corner of Third Avenue and Division Street in downtown Moses Lake, where she had a taste of business and did well enough to be able to move into this new space last November.
Hildebrand said she never intended to go into business. She originally pursued pre-med school at Central Washington University, dropped out to raise her children, then returned to school a few years ago to finish.
But then, when the pandemic hit, Hildebrand said she had to give up again. To help her children study when schools closed and teaching moved online. Which meant she had to do a lot of studying on her own.
"I spent a lot of time studying at Mason's Coffee and they became my community there. I spent almost every day there studying," Hildebrand said.
To help keep her busy, Hildebrand said she decided to start selling some of the jewelry she makes – bracelets, mostly, from wooden beads on which she would leave a little love note or an inspirational quote, where the name Love & Lumber comes from. .
"My jewelry is kind of a reflection of what I love and who I am," she said.
Hildebrand said she was encouraged to rent space in the Smith Martin Building, and things just evolved from there.
"Moses Lake showed up and supported me so well that I passed him," she said.
Love & Lumber is still the original store, though it's less blue and gray and more brown and olive. But beyond the homemade clothes and jewelry, Hildebrand also has bigger plans for its storefront. She runs yoga classes three days a week and has just finished installing new plumbing so she can also open a tea room.
"It's something different that we want to offer downtown," said Hildebrand. "We have a lot of coffee, you know, I wanted to do something different."
Hildebrand sells loose leaf teas from Oregon-based tea companies Smith Teamaker and Full Leaf Tea Co., and plans to allow customers to mix and match loose leaf teas and create their own flavors.
It also plans to offer bubbly tea flights — slow-brewed then carbonated tea — and even tea-infused mimosa flights with indoor and outdoor seating. Hildebrand said the teahouse is set to open on March 19.
"I just want to be hospitable," Hildebrand said. "I really like being hospitable."
Hildebrand sees Love & Lumber as her creative outlet and where serving tea and hosting yoga fits perfectly with her store aesthetic and what she sells.
"I feel like this whole space is a feel-good space," she said.
She also said that although it was a risk to start a business in the midst of a pandemic, she was not afraid to fail, which made it easier to start a business during a difficult time.
"I got into it just for fun. And for it to be a creative outlet for myself," she said. "And it turned into something really wonderful."
Charles H. Featherstone can be contacted at cfeatherstone@columbiabasinherald.com