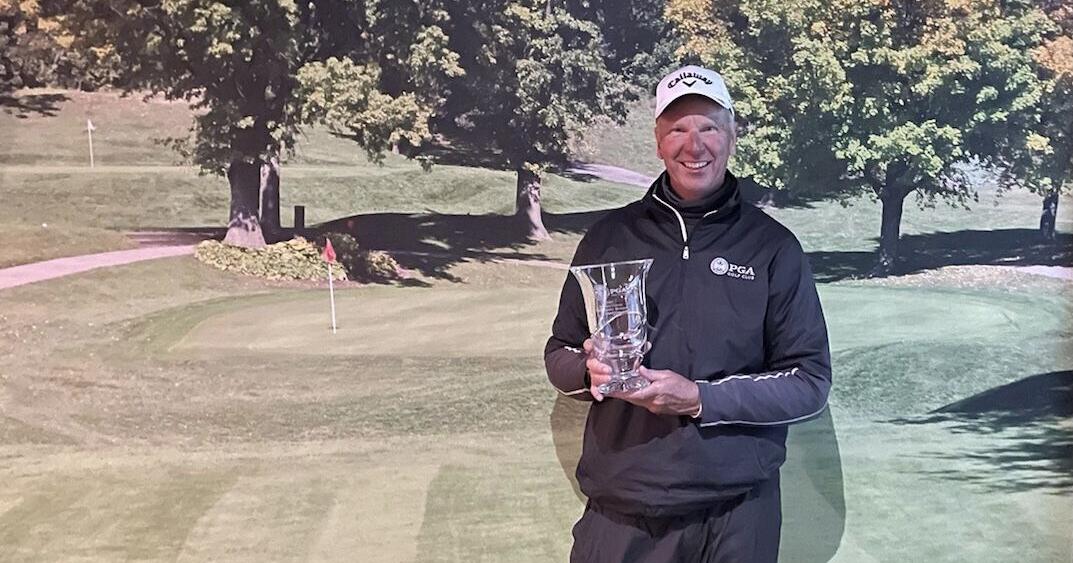 Local golfer and manager win Iowa PGA awards | pella
OSKALOOSA — A pair of locals recently won awards from the PGA of Iowa. Jeff Smith of Harvest Point Golf Course in Oskaloosa won the 2022 Iowa PGA Super Senior Player title while Matt Sherlock, manager of MK Golf Shops which leases Edmundson and Harvest Point golf courses in Oskaloosa as well as Bos Landen in Pella, was named one of two 2022 Iowa PGA Golf Co-Pros of the Year.
Smith has appeared in 13 Iowa PGA events this season, earning victories in the Super-Senior Division at the Mizuno 36-Hole Classic, Pro-Pro No. 2 and Harris Golf Cars Pro-Facility and NB Golf Cars/M&M Golf Cars Shootout. This is the fourth year in a row Smith has won the Super Senior Division as he also won the Senior Division Player of the Year award in 2015.
"Winning the PGA Iowa Section Super Senior Player of the Year was a very rewarding achievement," Smith said. "It was a goal achieved against a highly competitive field of PGA professionals from the Iowa Division."
Sherlock shared the Golf Co-Pro of the Year award with John Panek, PGA General Manager at Davenport Country Club. The winner is chosen based on leadership abilities that stand out from others, contributions to the success of their establishment, and excellence as a golf professional at the Iowa PGA Section level. This is the first time in Iowa PGA history that there has been a tie for this award.
"It's a great honor to be recognized as the Iowa PGA Section Golf Co-Pro of the Year for 2022," Sherlock said. "Being honored by my peers, and the awards committee is truly special. Sharing this award with PGA of Iowa legend John Panek is humbling. Congratulations John! This award means a lot to me, my family and our facilities and we are grateful for this recognition. My career in the golf industry continues to evolve and grow and we are excited for what the future holds for me. None of my success would be possible without the incredible system of support that has surrounded me my entire life.I would like to thank my staff, my mentors and my family, especially my two children, Jack and Presley, and my wife Kandis who has lived a life of golf since day one.
Sherlock and his wife Kandis manage MK Golf Shops, Inc. They operate and manage 45 holes of regulation golf, two branded golf shops including club repair, two driving ranges, two full-service beverage bars, two full-service concession businesses and an indoor golf simulator. Their golf shop was also nominated for Public Merchant of the Year in 2022. They have been in business successfully and proudly for 11 years. Their workforce of nearly 50 people consists of seven full-time employees.
Sherlock has been in the golf business his entire professional life and a Class A member of the PGA for 11 years. Sherlock has worked at the Edmundson and Harvest Point golf courses since age 12 for the respected PGA of Iowa professional, former District 8 manager, member of the Iowa Golf Hall of Fame and former Iowa PGA Chapter President Jeff Smith, PGA. Smith, a mentor and close friend of Sherlock, is now an employee of their company.
In 2017, he was named the Iowa High School Golf Coaches Association's Golf Professional of the Year for his contributions to high school golf. He has worked with 11 different high school and university golf teams at their facilities because he feels it is their duty to develop the game for future generations. MK Golf Shops has supported the Iowa PGA by hosting the Iowa PGA Junior and Pee Wee Tours and Drive, Chip & Putt Qualifiers each year. They also offer free golf and cart privileges to all GIVE program veterans and their guests since the GIVE program was established in 2007.
In 2021, Sherlock was honored to receive the Iowa PGA's first-ever Deacon Palmer Award. This award is presented to a PGA Professional who has overcome personal and/or physical challenges while contributing positively to the game of golf. He does not dwell on past health issues in his life, but he does not forget about them either. Again, he is, and still is, blessed to be surrounded by amazing people who have supported him through some of the toughest but also most rewarding days of his life.
"Matt has also been very active in the governance of the Iowa Chapter as a member of the board of directors, all chairs of the executive committee, serving as president from 2019-2021," Smith said of Sherlock. "It has been a very difficult two years serving our Section as the COVID pandemic nearly shut down golf in Iowa. Matt was instrumental in working with his officers and the State House and Governor of Iowa to convince them that golf was a sport/activity/business that could operate within many safety guidelines and be a healthy outlet for people to enjoy safely. Many PGA professionals have struggled during this pandemic and Matt leads our Iowa Chapter and those in need with dignity and compassion. Matt also experienced two very personal challenges undergoing back surgery and, sadly, losing his father to COVID. Matt continues to remain active in our Section and remains on the Iowa Section PGA Board of Directors as Past President for two additional years.
"Matt is a true professional, even in the face of adversity," added Erin Strieck, president of the Iowa PGA and Iowa Golf Foundation, director of golf at Pinnacle Country Club. "He is a person of true integrity and treats everyone, from the golf professional to the guests of his golf courses, with great respect. These attributes, in my opinion, allow me to continue talking about Matt and to make him the perfect recipient of the Iowa Section's Golf Professional of the Year award.