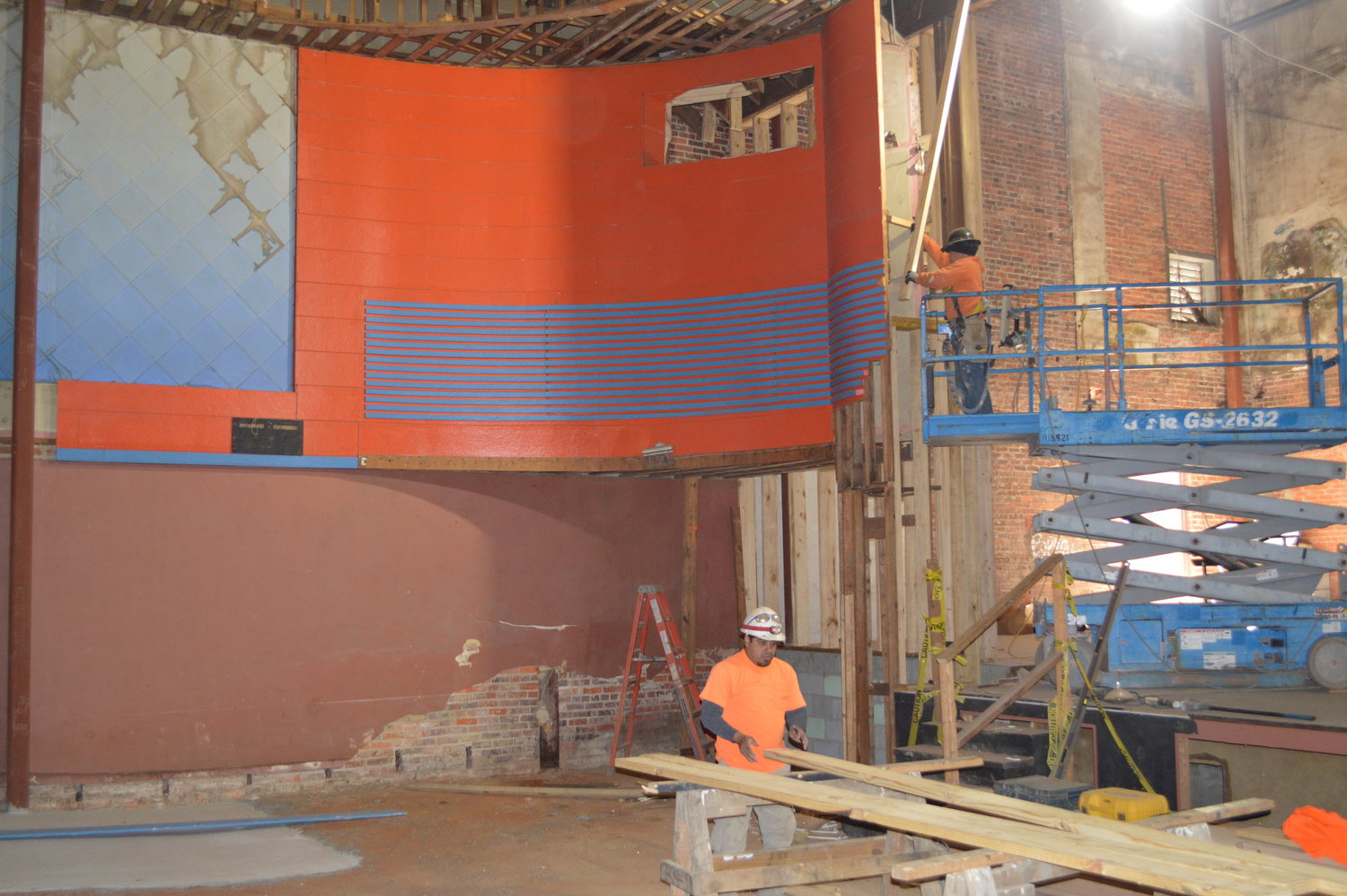 Ellis renovation 35% complete as manager seeks to book monthly shows
By STEVE SWOGETINSKY
For anyone who's ever doubted the $30 million Country Music Congress is actually happening, Marty Stuart says seeing is believing.
A half million dollar donation from a Merle Haggard fan in Reno is a done deal now and there are more as the search for a professional to manage Ellis and book monthly shows is in Classes.
Former Gov. Haley R. Barbour and his wife Marsha are hosting a fundraiser in Jackson next month as a $4 million state-funded renovation of the Ellis progresses.
"As people see the construction going on at the Ellis Theater, they realize the Country Music Congress is going to happen," Stuart said earlier this month. "It's been happening for a long time but it's finally visible.
"My hope from day one was that somehow this would start to catch fire and the city would have a whole new chapter. I think the Ellis and the Country Music Congress, as and as they come to life, will be a viable part of this rebirth of this city.
Five-time GRAMMY winner, platinum recording artist, Stuart brings a dream to his hometown.
The renovation of the Ellis began at the end of October and is 35% complete. The renovation is Phase I of the $30 million project.
Located at the south corner of Byrd Avenue and Main Street, when completed, the complex will include a renovated Ellis as well as a museum to display Stuart's collection of more than 20,000 pieces of country music memorabilia. There will also be classrooms, a community hall, event space and a rooftop performance hall.
The Country Music Congress will create curriculum and programming to promote the roots of country music. There will be changing exhibits that will not only highlight Stuart's collection. It will also include exhibits of Native American artifacts, memorabilia, photographs, folk art, and programs that have traveled overseas.
The pieces come together.
As work is ongoing inside the Ellis, exterior construction can be seen on the facades of adjacent buildings. This space will later be used for classrooms, offices, changing rooms and the museum in later phases.
The second phase will be the construction of the community hall where an old audio building is located. The third phase will be the construction and establishment of the museum where Stuart's collection of artifacts will be housed and displayed and which needs a buyer.
As Phase 1 work continues, Stuart thinks and works to open the doors and keep them open.
"What we need to do is look for a manager and general manager for the Ellis," Stuart said.
"If you're going to have opening week festivities around the time they wrap up, in show business things are booked right now. It's urgent. Job descriptions have been written and we are looking for the right person.
Stuart said that once the Ellis reopens, he plans two to three upcoming acts each month. But opening Ellis will be the first priority.
"Opening the Ellis is more important than having a gig," Stuart said. "It should be a series of events. There will be music. The Canada Council, which is absolutely a partner with us, should have the stage to do whatever it needs to do.
"There should be a church service to kick it off. And one of our advisory board members, Rob Stone, who is the visual curator at the Library of Congress, I invited him to do a movie night to make the Ellis a movie theater again.
"So you get music, you get theater and you get movies. This is how the Ellis will survive. I have to meet a lot of needs," Stuart said.
Understanding how to pay the bills is a top priority. Stuart, a member of the Grand Ole Opry and the Country Music Hall of Fame, has connected with potential investors about the project over the years. This hard work is paying off.
"It's a life sentence," Stuart said. "That's what I'm doing from now on. We are in the early stages of Phase 2 fundraising.
"There's a lady I was introduced to on the phone in the spring. She's from Reno, Nevada. She took Merle Haggard's old tour bus and drove across the country to see places she heard about She spent the day with me here in Philadelphia She enjoyed it and we kept in touch Just before Christmas she wrote us a check for half a million dollars to help start phase 2 and to help with the administration. Done.
"There's another check for $250,000 that's been placed in Washington, just to get us started. In my mind, these two herald Phase 2," Stuart said.
A fundraiser in Jackson on February 24 is hosted by the Barbours. "It can't hurt," Stuart said. "We will have other events later this year. So yes, fundraising is the most essential part of a Phase 2 game."
The Country Music Congress is a 5013C non-profit organization.
Members of the Country Music Congress Board of Directors are: David Vowell, Pat Thomasson, Jackie Hester, Marty Gamblin, Kinsey Goldman, Tim Moore, Steve Wilkerson, Jackie Conn, all of Philadelphia; Marty Stuart, Greenbriar, Tennessee, Liz Cirlot, Jackson, John Peets, David Conrad, both of Nashville, and Doug Hudson, Gulfport, Florida.