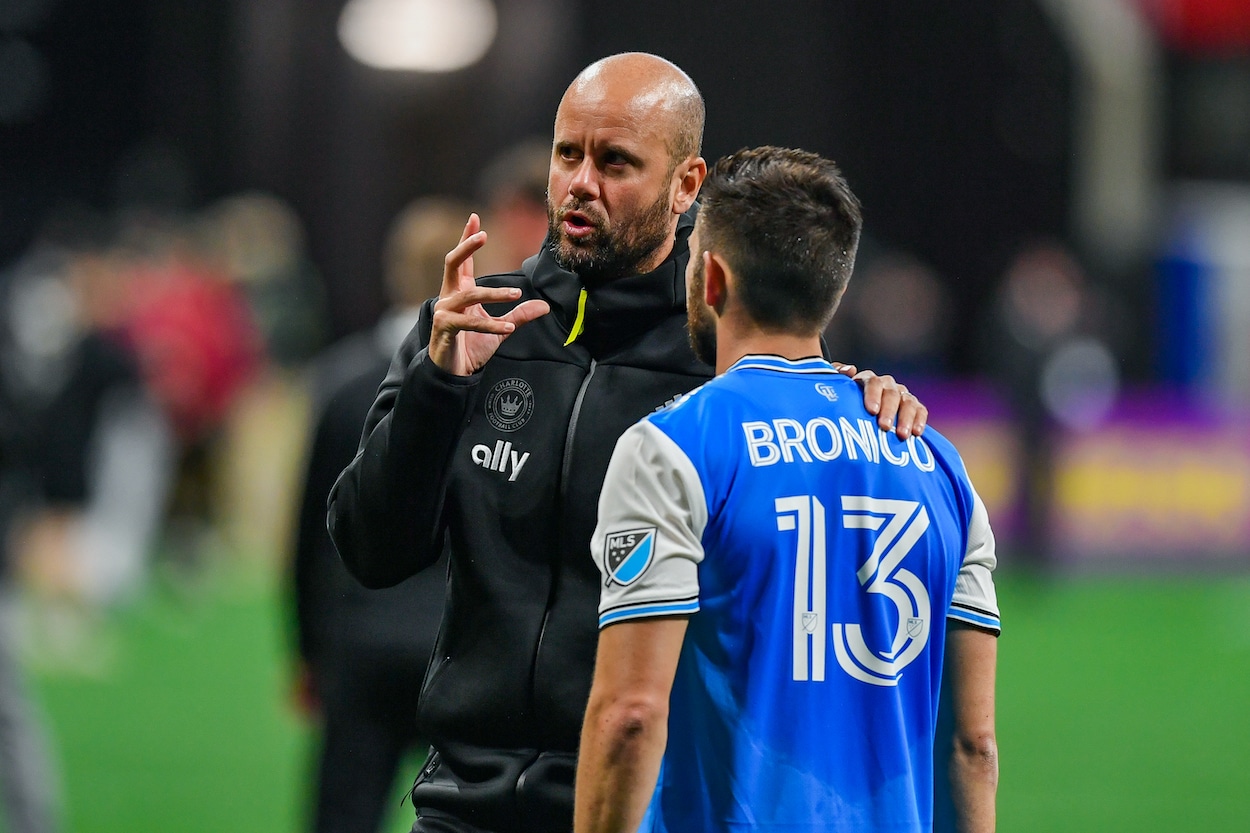 Charlotte FC shockingly fires outspoken coach Miguel Ángel Ramírez just 2 points from playoff spot
Less than three months ago, Charlotte FC played their first match in franchise history in front of a record Major League Soccer crowd of 73,019 at the Charlotte Panthers' Bank of America Stadium. Owner David Tepper's side claimed their first victory two weeks later and advanced to the round of 16 of the US Open Cup for the first time on May 11. Now, on May 31, the franchise has just completed another first, by sacking manager Miguel Ángel Ramírez. after just 14 MLS games.
Charlotte FC is just 17 games away from its inaugural season
In 2018, hedge fund billionaire David Tepper bought the Carolina Panthers from the NFL for $2.2 billion. After that, he set out to bring an MLS expansion franchise to Queen City. In 2019, after paying a record $325 million in expansion fees, Charlotte FC was born.
The franchise signed its first player (Spanish midfielder Sergio Ruiz) in July 2020, hired its first coach (Spanish manager Miguel Ángel Ramírez) in July 2021 and its first Designated Player (Polish striker Karol Świderski) in January 2022.
Charlotte FC's opener hosted LA Galaxy on March 5, 2022. The game was a hard-fought 1-0 loss in front of a packed Bank of America Stadium.
Two weeks later, Charlotte FC picked up their first victory against the New England Revolution, and another immediately followed with a 2-0 victory against FC Cincinnati. Three more wins followed, the most recent coming on May 22 with a 2-1 victory over the Vancouver Whitecaps.
Along the way, Charlotte beat USL League 1's Greenville Triumph and Richmond Kickers to advance to the 2022 US Open Cup Round of 16.
In addition to the five MLS wins, Charlotte has eight losses and a draw. They currently sit eighth in the Eastern Conference. The team is just two points from last place in the playoffs with more than half the season to go.
The last two games have not gone well for Ramírez and his team. On Wednesday May 25, Charlotte lost to the New York Red Bulls 3-1 to exit the US Open Cup. On Sunday, the team again lost to the Seattle Sounders 2-1.
On Tuesday, May 31, the franchise fired Ramírez.
Charlotte FC sacked coach Miguel Ángel Ramírez
Miguel Ángel Ramírez is a 37-year-old Spanish football manager. He started his career managing the Las Palmas youth team in Spain before moving to some youth teams for famous Greek sides AEK, Panathinaikos FC and Olympiacos.
In 2019, he rose through the senior ranks, leading Independiente DV in Ecuador, followed by Internacional in Brazil.
Despite a respectable record in 14 MLS appearances and three US Open Cup losses, Charlotte FC fired Ramírez without much explanation.
"It's a tough decision, but we believe it's the best for the team at this time," David Tepper said in a statement to MLS.com. "I want to thank Miguel and his team for their hard work during our first season and wish them the best in their future endeavours."
Although the sacking was a shock when it happened, it may not be a complete surprise.
Ramírez hasn't worked with a senior team for more than two seasons. In fact, during his last gig in Brazil, he was also promptly fired, just over three months after taking the job.
He has also made some stunning comments since his Charlotte FC debut. Just before the start of the season, he told the press: "We're screwed" because a transfer deal fell through and blamed the front office. Ramirez also said that Lionel Messi coming to MLS would be 'stupid'.
Assistant coach Christian Lattanzio will serve as interim coach as the team takes on the New York Red Bulls on Saturday, June 11.
As Sports broadcasting on Facebook. Follow us on twitter @sportscasting19 and subscribe to our Youtube channel.
RELATED: MLS: Ranking of the 5 best goalkeepers in Major League Soccer in 2022