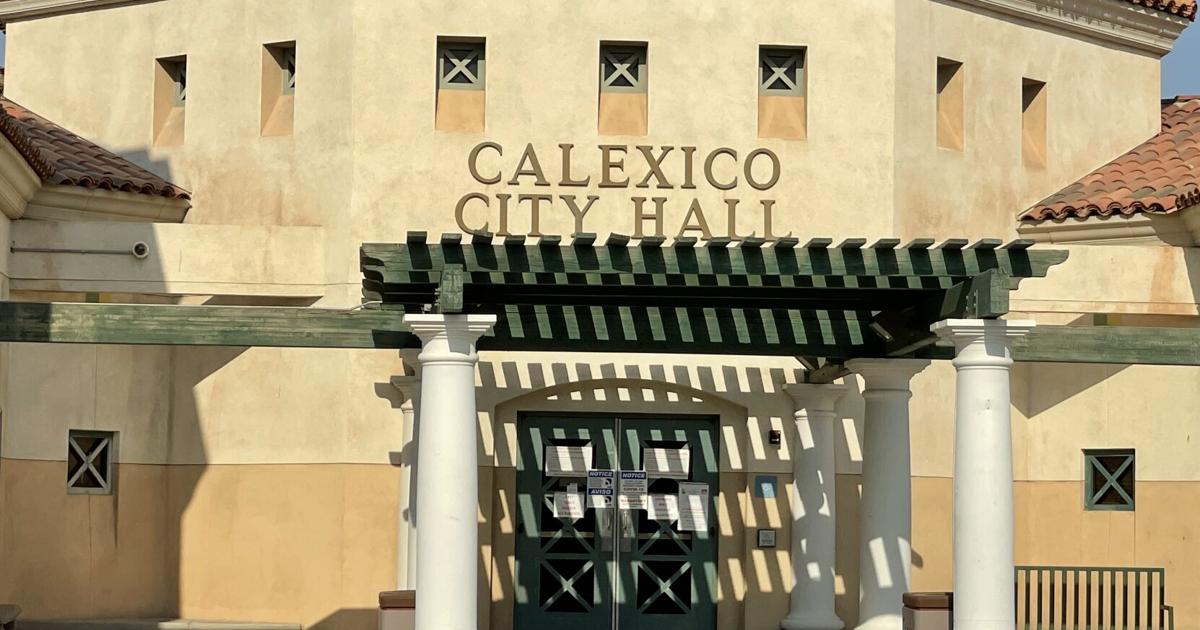 Calexico City Manager Explains Candidate Forum Canceled | Elections
CALEXIC — Calexico City Manager Esperanza Collio Warren explained her reasoning for canceling a Candidates Forum that was scheduled to be held at City Hall during a special City Council meeting last Wednesday, September 14.
The President and CEO of the Greater Calexico and Greater Brawley Chambers of Commerce, Katie Luna and Ramiro Urias, respectively announced in a video on social media that the city had canceled the event due to the revocation of a licence.
Council member Rosie Arreola-Fernandez asked Warren to explain herself and provide a reason why the forum was canceled because she was repeatedly questioned by phone and text about the canceled forum.
"To my knowledge, from my experience, City Chambers are public facilities, the resources that we use that depend on this staff meeting in this City Chamber are also public funds," Warren said. "And for that reason public funds in general are not used for campaigning matters and I explained this to Ms Luna on my call when I called to let her know that I had concerns about the use of this building, this public facility of funds used for campaign purposes," Warren said.
Warren said you can camouflage a political forum as an educational event, but for her that would be inauthentic given that each person on the podium would speak for themselves to be a member of the city council.
"And that makes it a campaign," Warren said. "And so that's one of the reasons, but also my conversation with her included the following: I asked questions on this forum, do you invite everyone to the meeting because I noticed that only 5 members were there," Warren said.
Warren said she was also informed that a contestant whose photo had been advertised to appear on the forum had not even been invited to participate.
Warren also called the canceled forum a "disorganized forum" because he was told Chamber of Commerce moderators were taking questions from the public instead of writing them themselves.
"It could be targeted at specific individuals and I don't think this city should be using these facilities to target individuals and attack those individuals in a public arena," Warren said.
Warren was also unhappy with the lack of security that would be provided to candidates who were personally attacked at the forum.
Warren also took the time to call out the press release issued by the Greater Calexico and Greater Brawley Chambers of Commerce for making false claims.
"There were comments on the press release that were totally untrue, number one I made that decision, the city didn't," Warren said. Later, I asked the mayor of the town to help me out because I wanted to make this call in writing, but I also wanted to provide something other than I used to have this meeting," Warren said.
Warren also said Mayor Javier Moreno helped her reach out to San Diego State University to see if they could open up their space to be a possible forum venue.
"They got back to us immediately, within 15 minutes, with two dates to provide a venue for the event, the forum, the 20th and the 23rd," Warren said.
"To avoid these kinds of situations, if you could work out a policy for the use of this facility because whatever it is used for, it is a public facility, it is publicly funded…but if the opportunity has been given to all the candidates…they are looking to be here and I think as long as they get their message across…I think we should have a policy," said board member Camilo Garcia.
Garcia felt that canceling the forum just days before it was scheduled negates an opportunity for the public to participate in the process.
"So we have very limited opportunities to listen to them, that would have been a good opportunity, so again, I would like to see a process that we could go through instead of going back and forth," Garcia said.